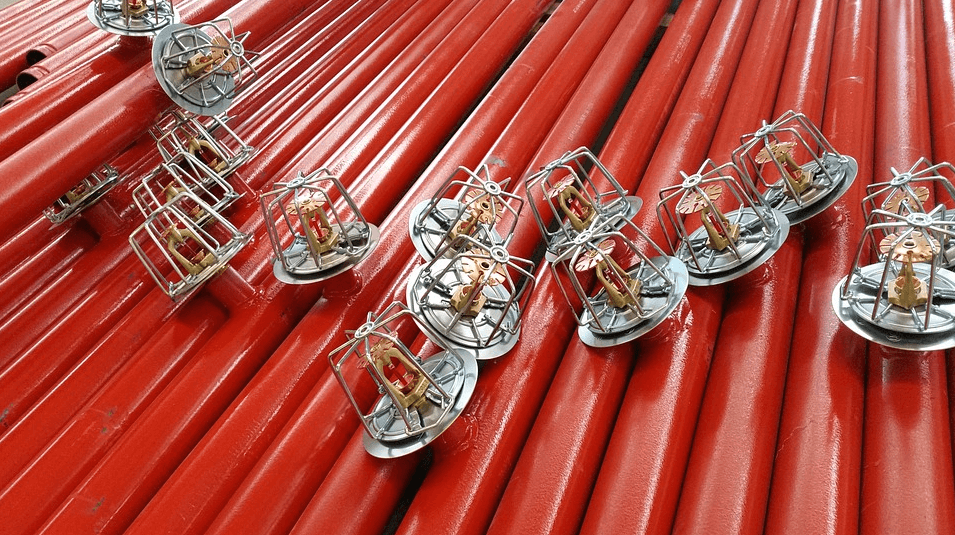 6 Important Benefits of a Fire Sprinkler System
Fires often start suddenly and spread rapidly, so it's no wonder that business owners go to great lengths to protect their personnel and property. But even with proper safety measures in place, fire can cause devastating damage to all kinds of buildings and put people's lives in danger. Commercial fire sprinkler systems spring into action automatically, making them one of the quickest and most effective ways to minimize these risks should a fire ever start at your business. Here are six ways your Pennsylvania company can benefit from installing a commercial fire sprinkler system.
Enhanced Occupant Safety
A business owner's number-one priority should always be the safety of their employees, customers, and anyone else occupying company property. Building fires are extremely hazardous and can lead to injuries or deaths from burns, smoke inhalation, falls, and structural failures.
In the event of a fire, a functional sprinkler system can contain or extinguish the flames. In fact, according to the National Fire Protection Association (NFPA), fires are contained to the room of origin 97% of the time when sprinklers are present. When installed, these automatic sprinklers can allow occupants to evacuate safely without suffering serious and potentially life-threatening injuries.
Lower Expenses From Fire-Related Damages
There will likely be some degree of physical property damage in the wake of a fire-related incident. Luckily, in addition to protecting people, commercial fire sprinkler systems help minimize the damage a fire will cause to a business's property.
A well-maintained sprinkler system can stop a fire from spreading, reduce its intensity, and may even extinguish it altogether, all of which are critical for keeping overall business losses low. Less fire damage also means that a company can spend less time in the aftermath assessing the situation, making repairs, and replacing items that were lost — helping to get them back to business as usual more quickly.
Reduced Insurance Costs
Paired with the right fire alarm and detection devices, commercial sprinkler systems can also help to reduce expenses in other areas, including when it comes to insuring a business.
Business owners who want to cut corners may think that installing a cheaper and less effective sprinkler system is a good idea financially, but in reality, the initial cost of setting up a sprinkler system may end up paying for itself over time when savings on insurance premiums are considered. When a business's personnel and property are safe and secure, insurance premiums are more likely to stay low.
Low Maintenance
One of the more hidden benefits of a commercial sprinkler system is how easy they are to have and maintain.
Once designed and installed, commercial sprinkler systems operate quietly behind the scenes and will turn on by themselves should a fire break out. They also only need to be inspected for functionality once per year, when a fire protection technology expert can verify that the sprinkler system is ready to operate in the event of a fire and ensure that all of the building's fire safety measures are up to code.
Higher Property Value
As businesses grow and teams expand, it's sometimes necessary to move on to a newer, bigger workplace. When it comes time to sell your current property, having a high-quality sprinkler system installed can significantly increase its potential sale value. After all, it takes time and money to build a commercial fire protection system from the ground up, so prospective buyers will show more interest and be willing to pay more for a property that already has an up-to-date one in place. You'll earn more money in the sale, and the new owners can set up shop and start moving in less time.
Greater Peace of Mind
Commercial fire sprinkler systems also offer greater peace of mind for business owners, their employees, and anyone else who frequents the space. By having fire safety systems and plans in place, companies can signal to everyone in the workplace that safety is a top priority and that the building is prepared to handle and mitigate a fire-related emergency.
Knowing more about the building's fire safety measures also helps everyone know what to do if the unexpected happens, which can ultimately save lives.
Contact Kistler O'Brien Fire Protection
Installing a robust fire sprinkler system is one of the most important things you can do for the safety and overall well-being of your business, its personnel, and its physical structures.
Our team at Kistler O'Brien Fire Protection can outfit your building with sprinklers, extinguishers, alarms, and a full range of other fire safety systems and technologies. In addition to design and installation services, we also offer expert inspections, maintenance, and repairs, and we can support your team with five different fire safety training sessions.
Contact us today to learn more about how we make businesses safer throughout the tri-state area.